Ceramics Studio Pia Brindley
Etzelstrasse 46
opening hours
8810 Horgen
friday
10 am to 6 pm
Phone
044 725 66 52
saturday
10 am to 2 pm or please call for an appointment
NEW COURSE ''THERAPEUTIC CREATIVITY IN CERAMICS''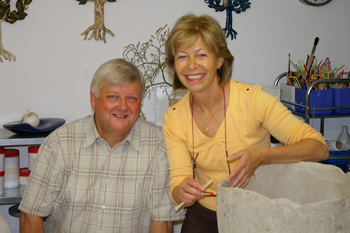 In a safe and supportive environment participants will be assisted and encouraged to produce their own unique piece of ceramic art. No previous experience of ceramics is needed.
You will design and create a ceramic sculpture of special significance to you. This creative process will act as a focus for exploring any personal development issues that arise and will be a rewarding and challenging opportunity to find greater personal understanding.
We all experience difficulties at some time in our lives and this course will appeal to anyone seeking a professional and confidential service which will help you fulfil your potential, offer you different perspectives and help you make choices.
You may simply wish to use this time to reflect and explore how to find greater personal fulfilment in your personal and working life. There will be the opportunity during the course to work privately with any arising issues.

Fees: CHF 650 includes refreshments and a light lunch each day.
Participants will also pay about CHF 100–250 for clay and glazing materials depending upon the quantity used.

Note: These new courses, run over two full weekends, will be conducted in English and participants should have a working knowledge of the English language.
These new group courses will be run jointly by experienced and well-known local ceramic artist and teacher Pia and Stephen Brindley.
Stephen is an experienced counsellor and a United Kingdom (U.K.C.P.) registered psychotherapist and holds the European Certificate in Integrative Psychotherapy.
Stephen and Pia will bring their own unique blend of humour, warmth and compassion to their work in this new workshop.
Nr. 1
THERAPEUTIC CREATIVITY IN CERAMICS
Please telephone or e-mail for further information about future dates. registration
---
Nr. 8
Indian Cookery Course No. 1 — Introduction to Indian Cookery by Stephen and Pia Brindley

Introduction to Indian spices and garam masalas
How to cook a simple, but authentic Indian Curry How to cook Indian Tarka Dhal (Lentils) Preparation and cooking of rices Simple Raitas (in Yoghurt) and Cachumbers (Relishes)

Apéro
Complementary Indian style Apéro

Dinner
We serve and eat together the Indian meal we have prepared.

Maximum 8 people attending ensures personal attention.
All foods and spices included.

September 2nd, 6 pm or October 14th, 6 pm

Cost per person incl. Apéro, dinner and wine Fr. 80.—registration